Technology's Core Ingredients
---
We supply the advanced materials that make many everyday and emerging technologies possible. These products are critical inputs in numerous applications including: clean energy technologies, such as hybrid and electric vehicles and wind power turbines; consumer electronics, such as smart phones and tablets; fiber optics; hard disk drives; automobiles; numerous defense applications; advanced water treatment technology; and other technologies.
Preferred Supplier Status
---
Our global footprint, proven capabilities across the supply chain, and industry-leading research and development practices make Neo Performance Materials your preferred supplier of value-added rare earth materials, magnetic powders, and high-value niche metals.
Initial Public Offering Prospectus
---
On November 30, 2017, Neo Performance Materials Inc. filed a final prospectus with the securities regulatory authorities in each of the provinces and territories of Canada to qualify the distribution (the "Offering") of 11,115,000 common shares of the Company ("Common Shares", and the Common Shares offered under this Prospectus being the "Offered Shares") at a price of C$18.00 per Offered Share (the "Offering Price") for gross proceeds of C$200,070,000. This Offering consists of a secondary offering of an aggregate of 11,115,000 Common Shares by OCM Neo Holdings (Cayman), L.P.  The Prospectus can be seen on SEDAR here:  English language version / French language version.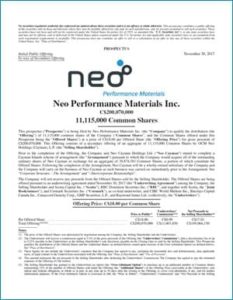 Learn more about our business segments: